ABBI Signs Cooper Davis
PBR Rising Star is First Cowboy to be Sponsored by ABBI
FOR IMMEDIATE RELEASE
PUEBLO, Colo. (January 7, 2016)- American Bucking Bull Inc. (ABBI) announced today that they are sponsoring a bull rider, a groundbreaking event in the history of the organization. Cooper Davis, who finished the 2015 PBR Built Ford Tough Series with a huge win in Las Vegas, will be the first cowboy riding for the brand.
"We are excited to have the 2015 PBR World Finals event winner representing the ABBI for 2016," said Jay Daugherty, ABBI's Executive Director. "Cooper is a young talent that has a bright future on the Built Ford Tough Series and we are confident in his abilities and what he represents. We are looking forward to a great relationship with him."
The 21-year-old rising star from Jasper, Texas won $250,000 in Las Vegas in October and will proudly ride for the ABBI brand this year.  "It's awesome being a part of the world's leading DNA  registry association for bucking bulls. I'm thankful for this opportunity and looking forward to representing the ABBI this season," said Davis.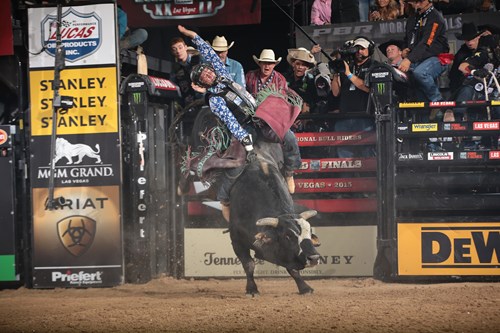 Cooper Davis at the 2015 PBR World Finals. Image courtesy Andy Watson/BullStockMedia.com